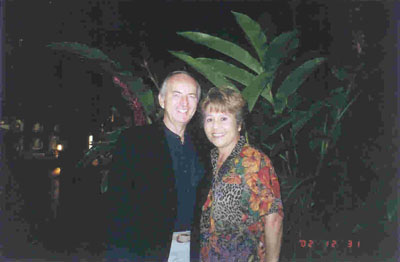 One more thing, I'm sending a recent Xmas picture. It may not be real clear (but that's good). My wife is also in the picture and I don't know if you ever saw her. She used to bring the kids to the pier to pick me up prior to deployment. We raised 4 kids, 2 girls and 2 boys. I have 4 granddaughters. Where has all the time gone?
Mr. Golf, aka Gene Abernathy, RMCM/CWO3, USN (1955-1982) was kind enough to forward an entertaining account of his RMCS exploits involving the 1969 Communications Patch while serving as our Radio Chief aboard the Hannah ... Rob

From: "Gene Abernathy" was <alnav@hawaii.rr.com> - now <alnavy@earthlink.net>
To: "Rob Lee" <rob@usshancock.org>
Subject: Communications Patch 1969; story of
Date: Wed, 22 Jan 2003 17:16:32 -0800

Rob,

Here are a few tidbits you may not know or remember. The communications patch I'm referring to is communications for peace encircled by line (rope). Originally, the rope was configured in a peace sign with the anchor behind it. Visualize the circle straight line top to center of patch with one leg going 45 degrees to the left and to the right. We made a decision based on the times that the sign signified the Peacenicks, hippies, losers, anti-Vietnam types etc... So we reconfigured it to look the way you have it. I was the one that took the design into Sasebo, after CODing off the ship while we were on line. I flew into Danang, spent a few days under fire there and worked my way onto a C130 using an empty box which I had stamped Top Secret and told the Air Force I was on a special courier mission and had to get to Japan. My true mission was twofold. 1. Get the patches produced and 2. Set up the Comm party. I still have a few of the patches left in different sizes as well as on my two flight jackets. While on the subject and while typing this note to you I remembered the Sasebo Communications Party. Since you didn't leave the ship until Dec 69 (I believe). You probably attended the party. I remember the majority of personnel showed up because it wasn't just a bunch of dancing girls with booze. I tried to arrange it so that the younger personnel would have good memories that they could share with their families when they got back home. If you were there, you probably recall the sukiyaki dinner served by geisha girls in full dress kimonos, the entertainment was the geisha playing the sitar and performing Japanese dances. The CO and his wife (who was visiting) said it was the only Department party he and his wife could remain at since it was done with some taste. I truly enjoyed putting that together and was pleased that so many of the CR division thanked me for making it a memorable evening since all they had been exposed to prior to that were the standup bars etc.....

Do you remember a first class by the name of DeYoung ? He made Chief and was initiated during that cruise. He was the msg center Chief. RMCM Joe Warnes (long eye brows) was the comm Chief. George Glenert (SMC) had the Signal Bridge. Trying to remember names after this many years is difficult. I sometimes get confused with personnel I served with onboard the Oriskany (CVA-34), also a 27 Charlie Class Carrier. I was a RMCS on her, made RMCM at NAVCOMMSTA Honolulu (my next duty station) and was commissioned shortly after.
Well Rob, I've been spending entirely too much time on this computer today. While trying to restore my system, my wife and son went golfing. You know things are serious when I miss my golf.

Take care and let me know if any of this stuff rocks your brain a little.

One more thing, I'm sending a recent Xmas picture. It may not be real clear (but that's good). My wife is also in the picture and I don't know if you ever saw her. She used to bring the kids to the pier to pick me up prior to deployment. We raised 4 kids, 2 girls and 2 boys. I have 4 granddaughters. Where has all the time gone?

Hanna shipmate

Gene